For generations, Jeep's lineup has led the way when it comes to vehicles that can go anywhere and handle anything. Even today, with its rugged reputation firmly cemented, Jeep still works hard to push the boundaries of what its lineup can do.
If you need proof, just look at the Jeep Gladiator. Jeep's all-new mid-sized truck for 2020, the Gladiator combines the rugged sensibilities of all-terrain SUVs like the Jeep Wrangler with the high-performance output of a hard-working truck.

Jeep recently took the Gladiator to the Northwest Automotive Press Association's annual Mudfest event, where it competed with other high-performance vehicles to prove its grit. The Gladiator wound up winning the event's top award: Northwest Outdoor Activity Vehicle of the Year.
"The 2019 NWAPA Outdoor Activity Vehicle of the Year competition featured the most diverse group of vehicles we've seen in its 25-year history," said association president John Vincent, in a comment. "The all-new 2020 Jeep Gladiator earned its title of Northwest Outdoor Activity Vehicle of the Year with an exceptionally functional blend of SUV and pickup attributes that northwest consumers crave."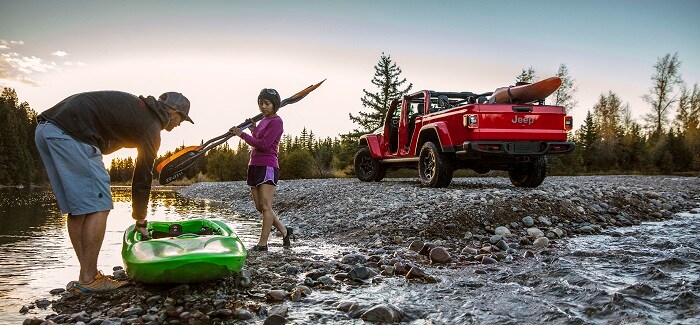 It's not hard to see why they were so impressed. With a peak output of 260 horsepower and 442 pounds-feet of torque, the Gladiator boasts a best-in-class towing capacity of 7,650 pounds. On top of that, it also has access to Jeep's line of powerful 4x4 terrain systems. Combined with a built-to-take-a-beating chassis and high ground clearance, the Jeep Gladiator is perfect for Grand Rapids and Wyoming, MI drivers who need something that can work hard and play hard in equal measure.
To learn more about the Jeep Gladiator, reach out to the sales team at Ed Koehn Chrysler Dodge Jeep Ram. Serving drivers in Kentwood and more, our Greenville, MI location has new vehicle inventory that can include Jeep Gladiator models and more.