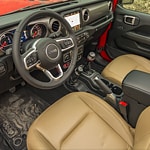 The 2020 Jeep Wrangler is a marvelous masterpiece by all means. This popular compact SUV appeals to a wide demographic of people thanks to all of its wonderful qualities. Consumers can choose between four-door or two-door models. The Wrangler can also be chosen in a myriad of exterior paints.
When it comes to the interior, this SUV is loaded with enjoyable features. First things first, the new Wrangler comes equipped with 4G LTE Wi-Fi. Up to eight devices can connect simultaneously and from 50 feet away. You'll love the personal-assistance features of Alexa innovation, which is voice-controlled. Smartphone integration is also available, which allows you to stream your favorite tracks through the vehicle's system. The 2020 Wrangler goes even further by offering leather upholstery as well as fine cloth. There are also hidden storage compartments.
Test drive the 2020 Jeep Wrangler by simply visiting our showroom. You won't be disappointed.